POS System for Hair Salons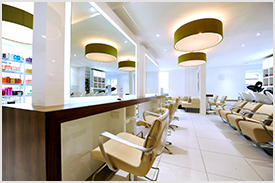 If you require a dedicated hair salon POS system that manages appointments, clients, and revenue and you want to utilize new technologies like internet, social, and mobile to simplify your work process and make you more accessible to clients, our advanced hair salon point of sale system is what you need.
If you run your own hair salon you know how difficult it can be to keep up with appointments, manage the needs of your hair dressers, see customer transactions and manage inventory. With all of the aspects of running your business, only a reliable system thats built for today's world, will allow you to grow efficiently without the need to invest the time to run your these tasks manually. When you run your business with an efficient hair salon point of sale system, you can focus your energy growing your business by offering your clients more services and the conveniences that will keep them coming back.
hair salon point of sale systems benefits
So many salons require cash transaction simply because salon owners know that it's much easier to deal with cash especially with tips involved and multiple costs for different salon services. While a regular cash register can assist with keeping receipts as well as payment processing for credit or debit cards, it is generally much easier to utilize a system designed for hair salons that will help customers to prepay for services, input their own tips, integrate with booking and accounting software and do much more.
With our POS systems for hair salons you not only get the proven hardware that will help you to perform your job better, but will also use a software system made for a salon, that has been proven to increase the efficiency. Features for appointment scheduling, inventory tracking, managing salon attendants, fast checkouts at the cash register or from an attendant by a handheld device, advanced reporting on and offsite, and the integration with accounting software like Quickbooks and other forms of software, is what our system does and well.
Charge with confidence
Because so many salons have dealt in expressly cash for many years it can be difficult to make the transition. Through our point of sale systems you can not only continue to accept cash but you can also accept a variety of different payment methods. Our support includes access to payment methods for credit cards, debit cards and even a variety of services that utilize customers' phones. This means that customers can pay with the method that is most convenient for them and also includes extra tip option for including a tip after the service.
Book with confidence
With our booking and scheduling feature, you can now book an appointment with ease, faster and much more organized. Our point of sale software can also send appointments within attachments making them easy for clients to add them into their calendars. We can also extend your appointment booking ability to the web where customers can see and schedule available appointments online. This means that your hair salon can offer clients a way to book appointments online. With online appointments and payment processing you can speed the process of your business and offer the kind of conveniences that will allow you to stay competitive.
Accounting with your hair salon POS
Our solutions are also much easier to use with bookkeeping software than traditional point of sale systems for hair salons as well, and now you can seamlessly integrate your transaction right into your Quickbooks.
This means that for every appointment you will have a record of the client, the service performed, and the financial transaction that took place. Taxes won't be the paperwork nightmare they used to be. Along with being organized financially, you can also produce detail reports at any moment to evaluate how your business is doing.
With all of these tools and more you will have control over your business while offering a new level of customer satisfaction with any of our hair salon point of sale systems. Contact us today to learn more about our point of sale systems for hair salons or to schedule a live demo.